Turner Prize nominee George Shaw (born 1966) is one of Britain's leading contemporary painters. His work has long attracted critical scrutiny and acclaim, and has been on view in high-profile solo exhibitions in the United Kingdom. Organized in collaboration with the Paul Mellon Centre for Studies in British Art in London, George Shaw: A Corner of a Foreign Field was the artist's first solo show in the United States.
Spanning three decades of Shaw's prolific artistic practice, the exhibition featured nearly seventy paintings, more than sixty drawings, numerous prints, and a range of sketchbook and notebook materials, as well as several new works. Shaw is celebrated for his paintings depicting the postwar Tile Hill council estate, where he spent his childhood. His work focuses relentlessly, even obsessively, on the Midlands—the region of England anchored by the cities of Birmingham, Derby, and Coventry.
Steeped in modern and historic fine art traditions, Shaw's work alludes equally to twentieth-century painting and photography, as well as historic masters of European painting such as Titian (1490–1576), whose paintings of Diana and Acteon directly influenced The Rude Screen (2015–16), a work Shaw exhibited at the National Gallery, London, in 2016. He is also recognized for paintings such as This Sporting Life (2009), which testify to his ability to capture the melancholy and poignant aspects of modern British culture.
Four short films (shown below) were screened at the Center throughout this exhibition's run. Commissioned from the British filmmakers Lily Ford, Jonathan Law, and Jared Schiller, this film series explores different aspects of Shaw's life and creative output, offering a dynamic introduction to the artist's ideas and work.
Credits
George Shaw: A Corner of a Foreign Field was organized by the Yale Center for British Art in collaboration with the Paul Mellon Centre for Studies in British Art and the Holburne Museum in Bath, UK. The lead curator was Mark Hallett, Director of Studies at the Paul Mellon Centre, assisted by Alexandra Burston. Matthew Hargraves, Chief Curator of Art Collections at the Center, served as the organizing curator. The exhibition subsequently traveled to the Holburne Museum in Bath, UK, where it was on view from February 8 to May 6, 2019.
This display was also accompanied by a catalogue of the same title. Edited by Hallett and published in association with Yale University Press, the book features essay contributions from leading scholars, including Catherine Lampert and David Alan Mellor, as well as an interview with Shaw by the British artist Jeremy Deller. 
The short films commissioned for this display and the exhibition catalogue were supported generously by Debbi and Richard Burston, Yale BA 1982.
Top image
George Shaw: A Corner of a Foreign Field installation, Yale Center for British Art, photo by Richard Caspole
Extended reading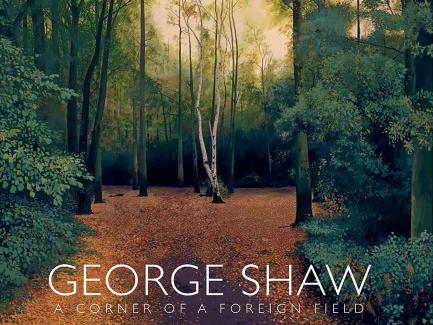 George Shaw: A Corner of a Foreign Field
Edited by Mark Hallett, with contributions by Thomas Crow, Catherine Lampert, David Alan Mellor, and Eugenie Shinkle