Exhibitions
Great British Watercolors from the Paul Mellon Collection
Great British Watercolors brought together eighty-eight outstanding works in the medium from the Paul Mellon Collection at the Center, including masterpieces by J. M. W. Turner, John Constable, William Blake, Paul Sandby, John Robert Cozens, Thomas Girtin, Thomas Gainsborough, and others. The exhibition was organized as part of the 2007 celebrations commemorating both the Center's thirtieth anniversary and the centenary of the institution's founder, Paul Mellon, one of the greatest cultural philanthropists of the twentieth century.
In a period of a little over fifteen years, beginning in the early 1960s, Mr. Mellon assembled one of the world's greatest collections of British drawings and watercolors. As part of his extensive collecting of British art, he purchased several distinguished private collections of British watercolors, enriching and expanding them with astute purchases reflecting his own taste. In his memoirs he praised "the beauty and freshness of English drawings and watercolors, their immediacy and sureness of technique, their comprehensiveness of subject matter, their vital qualities, their Englishness."
Great British Watercolors spanned more than a century of British artistic production, from the emergence of watercolor painting in the mid-eighteenth century to its flowering in the early nineteenth century. The exhibition highlighted the diversity of British watercolor painting, showing both landscapes and figurative works by some of the principal artists who worked in the medium. Paul Mellon's collecting activity helped to revive the study of British watercolor.
Venues
Virginia Museum of Fine Arts, Richmond:
July 11–September 30, 2007
The State Hermitage Museum, St. Petersburg, Russia:
October 23, 2007–January 13, 2008
Yale Center for British Art:
June 10–August 17, 2008
Credits
Organized by the Center in association with the Virginia Museum of Fine Arts, Richmond, Great British Watercolors was curated by Scott Wilcox, Curator of Prints and Drawings at the Center; Mitchell Merling, Paul Mellon Curator and Head of the Department of European Art, Virginia Museum of Fine Arts; and Matthew Hargraves, Postdoctoral Research Associate in the Department of Paintings and Sculpture at the Center.
Top image
Great British Watercolors from the Paul Mellon Collection installation, Yale Center for British Art, photo by Richard Caspole
Extended reading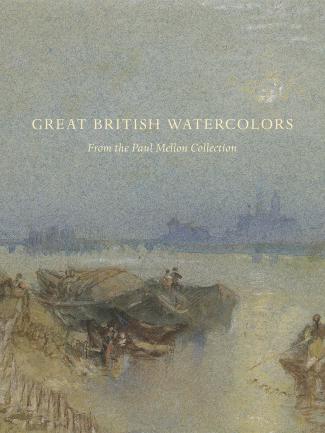 Great British Watercolors From the Paul Mellon Collection at the Yale Center for British Art
Written by Matthew Hargraves