Exhibitions
The Hilton Als Series: Celia Paul
Featuring six paintings from the contemporary British artist Celia Paul (born 1959), this was the first in a series of three successive exhibitions authored and curated by the Pulitzer Prize-winning author Hilton Als, staff writer and theater critic for the New Yorker and Associate Professor of Writing at Columbia University. This display, specially selected by Als in collaboration with the artist and a deeply personal testament to their transatlantic friendship, focused on Paul's recent works, which explore intimacy and inwardness. Als's subsequent installments at the Center will feature the works of Lynette Yiadom-Boakye (2019) and Njideka Akunyili Crosby (2021).
"Contemporary British art has had a global impact," explained Als. "Visionaries such as Peter Doig, Chris Offili, Lynette Yiadom-Boakye, and Celia Paul define a post-YBA aesthetic that puts the personal to the forefront. Whether drawing from life, or the life of the imagination, these artists are inspired by the figurative. Sometimes the figures are family members, or bodies that the painter invents living and dancing and stretching in scenes based on moments experienced in real life. So doing, the artist showcases his or her interest in the complex and rich relationship between the seen, and the seer. Paul, Yiadom-Boakye, and Crosby each create a world based on intimacy—the intimacy of the dreamer recording the sitter dreaming in a new England or colony, not uninfluenced by the politics of inclusion, with its fascinating aura of unapologetic feminism, blackness, the body sheathed in difference."
To complement this exhibition, Als also selected a group of paintings by artists of significance to Paul. These works, along with an additional painting by Paul, were on display in the Center's Long Gallery on the fourth floor.
Exhibition brochure
Celia Paul was accompanied by a brochure, and following the final exhibition in 2020, the Center will publish a volume of Als's personal reflections on Paul, Yiadom-Boakye, and Crosby.
Top image
Celia Paul installation, Yale Center for British Art, photo by Richard Caspole
Extended reading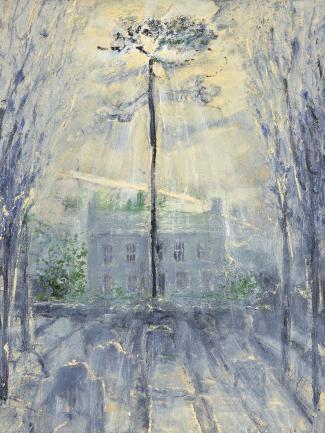 Press Release
Pulitzer Prize-winning Author Hilton Als Curates an Exhibition of Recent Work by Celia Paul at the Center