The year 2019 marked the bicentenary of the birth of the great nineteenth-century artist and critic John Ruskin. Drawing on the Center's rich collection of Ruskin's drawings and publications, with significant loans from the Beinecke Rare Book and Manuscript Library, the Metropolitan Museum of Art, and other institutions, this exhibition positioned Ruskin as a pioneering ecological thinker, social reformer, educator, and preservationist. Bringing together an array of diverse materials including paintings, drawings, literary manuscripts, mineral samples and memorabilia, the exhibition highlighted Ruskin's impact in his own time and his enduring significance today.
Unto This Last opened with a contemporary response to Ruskin's seminal work The Ethics of the Dust by artist Jorge Otero-Pailos.
Credits
Unto This Last: Two Hundred Years of John Ruskin was organized by the Yale Center for British Art and curated by three PhD Candidates in Yale University's Department of the History of Art: Tara Contractor, Victoria Hepburn, and Judith Stapleton; with Tim Barringer, Paul Mellon Professor of the History of Art at Yale; and Courtney Skipton Long, Acting Assistant Curator of Prints and Drawings at the Center. A version of this exhibition was later on view at the Watts Gallery in Compton, Surrey, UK.
A fully illustrated catalogue, with an introduction by Barringer, essays by Contractor, Hepburn, and Stapleton, and an epilogue by Long, accompanied the exhibition. The book Unto This Last: Two Hundred Years of John Ruskin was published by the Center in association with Yale University Press.
Top image
Unto This Last: Two Hundred Years of John Ruskin installation, Yale Center for British Art, photo by Richard Caspole
Extended reading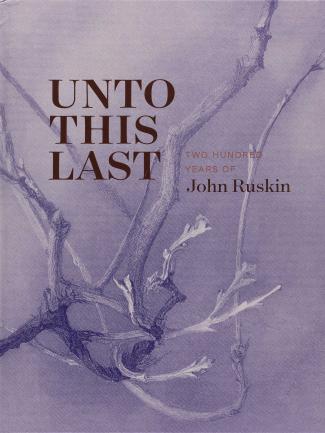 Unto This Last: Two Hundred Years of John Ruskin
Edited by Tim Barringer, with Tara Contractor, Victoria Hepburn, Judith Stapleton, and Courtney Skipton Long