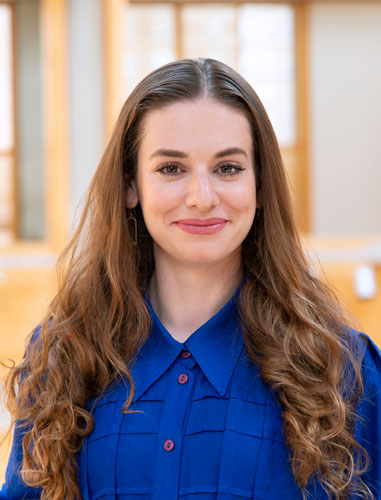 Siobhan Angus  
Siobhan is an assistant professor of media studies at Carleton University. She is currently in the very early stages of a research project that explores the intersections of land, toxicity, and environmental racism. Her project situates landscape studies within the framework of environmental justice to analyze how environmental harms connect to structural questions of power, with an emphasis on empire and settler colonialism as well as racial and class inequality. While in residence at the YCBA, she is interested in exploring these themes through a focus on industrial landscapes and plantations. Her reconsideration of landscape studies responds to seismic shifts in thinking about the land that has escalated over the course of the twenty-first century, including the cumulative crises of anthropogenic climate change; Indigenous land and water defender campaigns; and calls to decolonize museums, universities, and other cultural spaces. These activist campaigns have directed attention to the material structures of power, politics, and economy that shape our interaction with place. By bringing work in geography, the environmental humanities, and Black and Indigenous studies into dialogue with art history, she analyzes the construction of environmental sacrifice zones, and in turn, how art helps us make sense of toxicity and environmental change.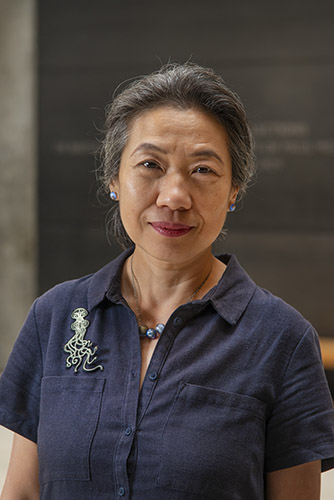 Ting Chang
Ting is an associate professor of art history at the University of Nottingham, UK. Her project, "Playing Empire: Games, Spectacles, and Colonial Subjects," examines British and French maps, board games, playing cards, and optical devices that required handling and manipulation in the long nineteenth century. These objects offered pre-digital immersive experiences, spectacles, and forms of play that shaped imperial and colonial subjectivities. Ting's research focuses on the educational and ideological functions of games; interactions of visuality, tactility, and materiality in early board games, toys, and optical devices; and synesthesia and proprioception in play.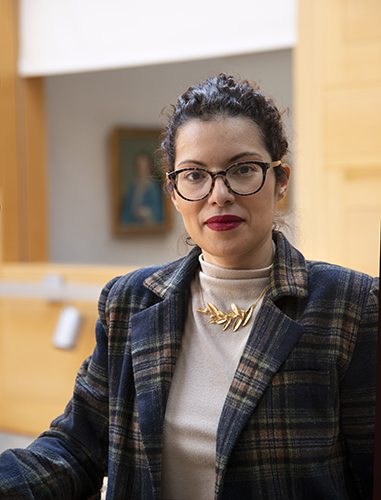 Charalampia (Chara) Dimitropoulou
Charalampia (Chara) Dimitropoulou is a PhD candidate in art theory and history at the Athens School of Fine Arts. Chara's dissertation examines contemporary museums as architectural sites that shape people's visual and cultural experiences, with particular focus on the relationships between space and light and between space and culture. The Yale Center for British Art will be one of her case studies. Chara will work with Mark Aronson, Deputy Director and Chief Conservator, to collect data on light levels in the museum and to engage with the visitor experience by way of a short questionnaire that combines the study of architectural issues, museology, and empirical aesthetics. Combining archival research with field observation, Chara will assess the quality, strength, and experience of light at the YCBA.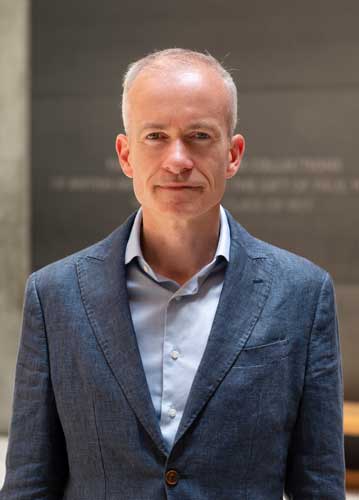 Max Donnelly
Max Donnelly is a Curator of Furniture and Woodwork 1800–1915 at the Victoria and Albert Museum (V&A). Max will study the YCBA's materials relating to the works of architect and designer A. W. N. Pugin (1812–1852). The YCBA holds nearly two hundred drawings and prints by Pugin. It also holds around forty publications and some fifty items of correspondence and other papers directly relating to A. W. N. Pugin, which are themselves part of a larger Pugin family archive. The V&A recently acquired a large archive of about seven hundred A. W. N. Pugin designs, which are currently being catalogued. Max's research at the YCBA will enhance the V&A's understanding of Pugin's designs and will inform a forthcoming display of Pugin's work, to take place as early as fall 2024.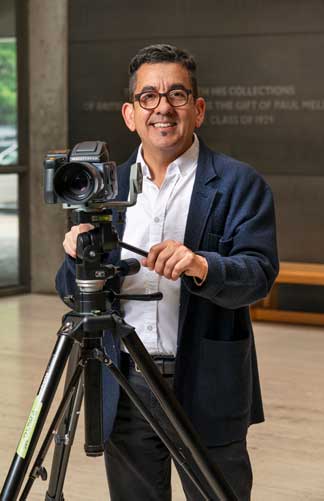 Ken Gonzales-Day
Ken Gonzales-Day's interdisciplinary and conceptually grounded projects consider the history of photography, the construction of race, and the limits of representational systems, ranging from the lynching photograph to museum display. You can learn more about his work on his website and in his recent appearance in the YCBA's "at home: Artists in Conversation" series. While at the YCBA, Ken is conducting research on and photographing Bust of a Man (1758, studio of Francis Harwood). 
Joy Gregory
Joy is an artist working with photography and related media. At the YCBA, she worked on a project titled "Seeds of Empire": Plants as agents of resistance as utilized by the enslaved and indigenous populations of Jamaica during the transatlantic slave trade. 
Hannah Kaemmer 
Hannah is a PhD candidate in history and theory of architecture at Harvard University. Her dissertation,  "Expertise and Empire: Fortification Building and the English Ordnance Office, 1660–1714," interrogates the territorial practices of imperial expansion by analyzing the fortification of England's seventeenth-century empire. 
In the early seventeenth century, English colonial fortifications were directed by individuals and corporations, but by 1700, the English state had a cadre of engineers who managed fortification projects throughout its colonies. Hannah's dissertation traces this remarkable transformation. Focusing on state fortification projects in Africa, Canada, the Caribbean, and Ireland, it considers how fortifying England's empire became a state problem, and examines how a government institution, the Ordnance Office, facilitated state control over these massive infrastructural projects. This study reveals the close relationship between military architecture and empire building, and argues that, even before it articulated an explicit imperial vision, the English state was pursuing expansionist practices through interventions in the colonial built environment.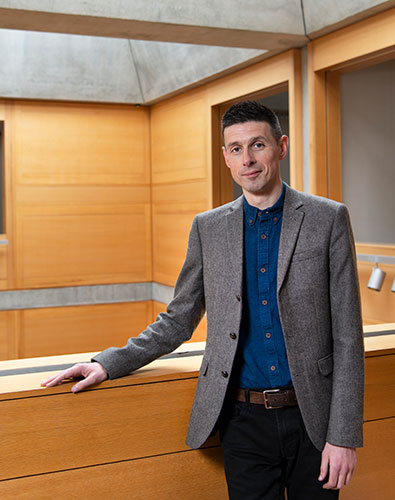 John McAleer
John McAleer is an associate professor of history at the University of Southampton. His project will employ the rich visual resources and archival material in the YCBA's collections to extend and enhance our understanding of the role of images and image-making, as well as themes of visuality, in representing the voyage to Asia in the age of sail. While historians have long acknowledged the importance of written instructions and textual accounts to the success of the East India Company's voyages, similar recognition of the value of visual records has been largely absent from the scholarship. Notwithstanding the relative dearth of scholarly attention, however, references to images and image-making suffuse travelers' accounts, while visual and aesthetic responses to their surroundings played a key role in shaping their experiences of the passage to Asia. Lengthy sea voyages—such as those undertaken in East Indiamen—afforded travelers the opportunity to record their impressions extensively, in both textual and visual media. By enhancing our understanding of the voyage experience for travelers, as well as the ways in which they chose to detail it, this research will add salt water to the study of art and travel. In doing so, it will illuminate this important but frequently overlooked episode in the histories of the East India Company and the British Empire more generally.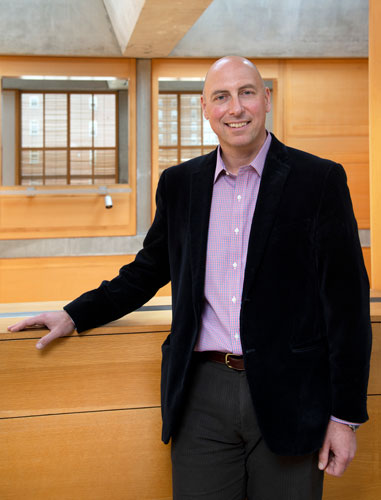 Christopher Pastore
Chris is an associate professor of history at the University at Albany (SUNY). His book project, A Thousand Thousand Slimy Things: A Natural History of the Sea from the Bottom Up, examines the natural history of the seas, both literally and figuratively, from the "bottom up." By wading into the muck and plunging into the ooze, this project shows how ordinary people made sense of a mysterious ocean. It turns out that the sea's slimy things, both real and imagined, have long tended to lurk near the limits of natural knowledge, where people who have traditionally been relegated to the margins of scientific inquiry—Africans, Native Americans, Pacific Islanders, and women, among others—became their primary interpreters. Guided by the conviction that human history is inextricably tied to the rhythms of nature, this project shows how the contributions of marginalized people helped lay the foundations of marine ecology, thereby forging the principal pathways of global connectivity. From the "age of exploration" to the "age of acceleration," the sea's slimy things have embodied not only the anxieties (and inequities) of each age but also, in many cases, new possibilities.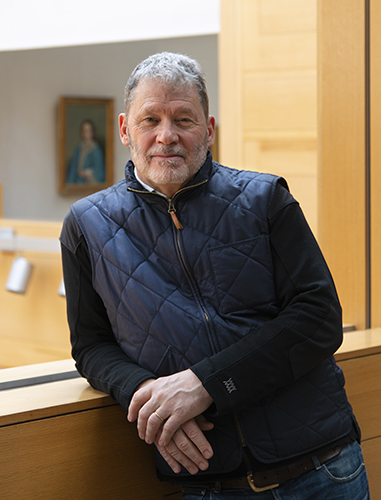 Michael J. Prokopow
Michael J. Prokopow is a curator and cultural historian on the faculty of the Ontario College of Art and Design University. He is the author of a book on the British painter Hurvin Anderson, and in 2021 he spoke with Anderson for our at home: Artists in Conversation series. Michael's current research considers racial capitalism, material gentility, and visual representations of imperial culture. It builds on existing decolonizing readings of eighteenth-century British group portraiture and the interrogation of aristocratic domesticity to reveal inextricable relationships between the economic systems of colonialism, the global circulation of goods, and the enslavement of African and African diasporic peoples. While at the YCBA, Michael will focus on the museum's collection of paintings by Arthur Devis, interrogating Devis's careful presentation of sitters, interior architecture, and objects.
Sophie Rhodes
Sophie is a PhD candidate in the history of art at the University of Cambridge, where she is working on her thesis, "Peter Oliver and the Miniature in Stuart England," as part of a collaborative doctoral award with the National Portrait Gallery in London. Her research aims to provide the first in-depth investigation into the miniaturist Peter Oliver (ca. 1589–1647) and will include a catalogue raisonné of his portrait miniatures, cabinet miniatures, and drawings. Her thesis situates Oliver within the cultural and social context of his period and considers topics such as knowledge and artistic transfer within the Huguenot and immigrant artist community; the activities of prominent collectors of the period, such as Thomas Howard, fourteenth Earl of Arundel, and the "Academy" at his house; the reception of copies during this period; and the position of the portrait miniature in Stuart culture. At the YCBA, Sophie will be working on the catalogue of Oliver's works and looking at objects in the collection by Oliver and his contemporaries, as well as treatises and artist's manuals from the period.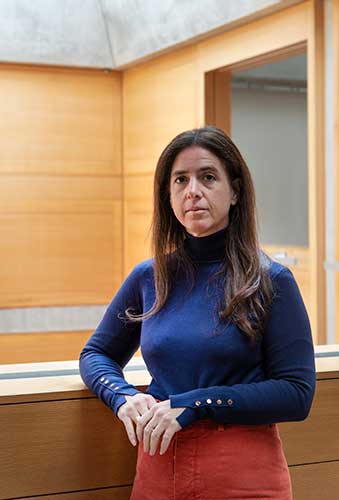 Amie Siegel
Amie works with film, video, photography, sculpture, and installation and is known for layered, meticulously constructed works that trace and perform the undercurrents of systems of value, cultural ownership, and image-making. During her fellowship, Amie will research and develop a body of work in connection with the YCBA's Paul Mellon collection in preparation for an exhibition at the museum. 
Recent solo exhibitions of her work include Bloodlines, Scottish National Museum Gallery of Modern Art; The Silence, ArkDes/The Swedish Centre for Architecture & Design, Stockholm; Medium Cool, Blaffer Art Museum, Houston; and Winter, Guggenheim Museum Bilbao. Her group exhibitions include the thirty-fourth São Paulo Bienal, twelfth Gwangju Biennial; Dhaka Art Summit, Bangladesh; and Glasgow International, Scotland. Her films have screened at the Cannes, Berlin, Toronto, Rotterdam, and New York film festivals, and her work is in the permanent collections of the Museum of Modern Art, New York; Tate, London; Carnegie Museum of Art, Pittsburgh; the Art Institute of Chicago; and Kunstmuseum Stuttgart.
Kim Sloan
Until her retirement in 2020, Kim was curator of British drawings and of the Enlightenment Gallery at the British Museum, working especially on the history of collecting. During her time at the YCBA, she will review the museum's collection of works by Alexander Cozens (1717–1786) in preparation for an upcoming exhibition on his activities as a drawing master at Eton College, as well as writing the full Collection Online catalogue entries for the British Museum's holdings of his work. She will also research the provenance of drawings and watercolors acquired by the British Museum and the YCBA from the 1960s to the 1980s in connection with broader research into the British Museum's Nazi spoliation lists. 
Lauren Working 
Lauren Working is a lecturer in early modern studies at the University of York. She specializes in the intersection between English colonialism in the Americas and the politics and culture of Tudor and Stuart London. Her interest in art-historical and material-culture approaches to transatlantic literary sociability has brought her to the YCBA to begin research on her next book project on women and plantations. This will involve thinking about female sociability and the way colonialism informed Stuart women's visual and literary self-fashioning, while seeking to connect this to the lives of Indigenous and African women on plantations. As a consultant for the National Portrait Gallery in London, Lauren aims to think specifically about the value of sixteenth- and seventeenth-century portraiture in provoking new insights into cross-cultural female diplomacy, travel writing, and the colonial gaze.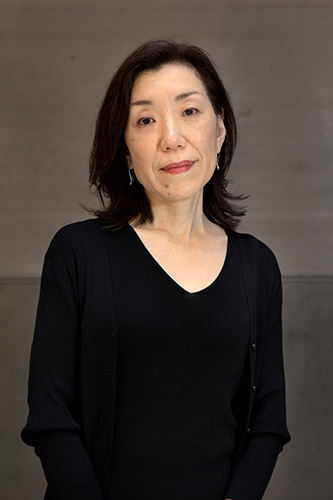 Noriko Yoshimura
Noriko is a professor at Miyagi Gakuin Women's University in Japan. Her current project is a monograph on artist Richard Hamilton (1922–2011), who collaborated with John McHale and John Voelcker to create the Group 2 exhibit in This Is Tomorrow at London's Whitechapel Gallery in 1956. Most of McHale's ideas, design suggestions, and materials were sent from America, where he was studying at Yale. During her time at the YCBA, Noriko will conduct research on the John McHale Archive.