This installation reveals how frequently the story of art in Britain focuses on a narrative of international exchange. This arrangement addresses the impact of immigration and travel on British art and culture across the centuries, and the role that the arts have played in propagating Britain's imperial vision—exploring the ways in which the perception of the British Empire influenced how Britons saw themselves and others. Featured in this display are the Netherlandish artists who provided the foundations of British art in the Tudor period (1485–1603), as well as the seventeenth-century Flemish artist Anthony van Dyck, the eighteenth-century Venetian artist Canaletto, the German artist Johan Zoffany, and American artists John Singleton Copley and Benjamin West.
Many of the Center's well-known works from the Paul Mellon Collection are on view in exciting juxtapositions, including George Stubbs's Pumpkin with a Stable-lad; Joseph Wright of Derby's The Blacksmith's Shop; J. M. W. Turner's Dort or Dordrecht: The Dort packet-boat from Rotterdam becalmed; Staffa, Fingal's Cave; and John Constable's cloud studies.
Top image
Britain in the World installation, fourth-floor galleries, Yale Center for British Art, photo by Richard Caspole
Extended reading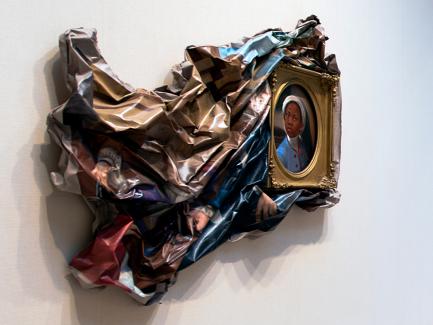 New light on the group portrait of Elihu Yale, his family, and an enslaved child
The goal of this ongoing research project is to make transparent the history of the painting in Center's collection and the multiple ways in which it has been explored in the past.