Exhibitions
"Of Green Leaf, Bird, and Flower": Artists' Books and the Natural World
This exhibition looked at the ways in which self-taught naturalists and artists recorded and observed the natural world around them from the sixteenth century to the present, examining the intersections of artistic and scientific interest. Depictions of Britain's countryside and its native plant and animal life were explored through nearly three hundred objects drawn primarily from the Center's collections, ranging from centuries-old manuscripts to contemporary artists' books.
"Of Green Leaf, Bird, and Flower" highlighted the scientific pursuits of the eighteenth and nineteenth centuries that resulted in the collecting and cataloging of the natural world, and that informed the aesthetically oriented activities of the self-taught naturalists of the Victorian era, particularly those of women who collected and drew specimens of butterflies, ferns, grasses, feathers, seaweed, and shells, and assembled them into albums and commonplace books. The exhibition suggested a remarkable continuity of past and present aesthetic concerns by juxtaposing these works with those of contemporary artists such as Eileen Hogan, Mandy Bonnell, Tracey Bush, John Dilnot, Helen Douglas, and Jane Hyslop, who reveal a shared impetus to document, interpret, and celebrate nature while at the same time broadening the vision of the natural world to incorporate its interaction with consumer culture and with modern technologies.
The exhibition featured traditional bound books, drawings, and prints, as well as a range of more experimental media incorporating cut paper, wood, stone, natural specimens, sound, video, and interactive multimedia. Historical works were also on loan from the Beinecke Rare Book and Manuscript Library and the Lentz Collection at the Yale Peabody Museum of Natural History, including examples of early microscopes used by natural historians.
Credits
"Of Green Leaf, Bird, and Flower": Artists' Books and the Natural World was organized by the Center and curated by Elisabeth Fairman, Senior Curator of Rare Books and Manuscripts. The accompanying book, designed to evoke an early naturalist's field guide, was published by the Center in association with Yale University Press.
Top image
"Of Green Leaf, Bird, and Flower": Artists' Books and the Natural World installation, Yale Center for British Art, photo by Richard Caspole
Extended reading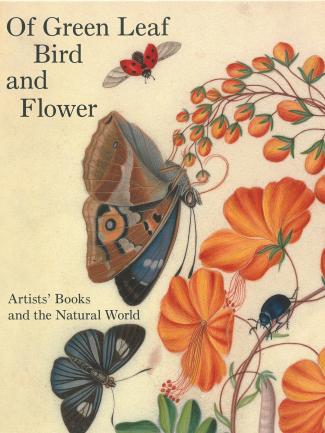 "Of Green Leaf, Bird, and Flower": Artists' Books and the Natural World
Edited by Elisabeth R. Fairman