Exhibitions
The Independent Eye: Contemporary British Art from the Collection of Samuel and Gabrielle Lurie
The Independent Eye marked the first museum exhibition of selected works from the Lurie collection of British art, which is an intended gift from Samuel and Gabrielle Lurie to the Yale Center for British Art. The exhibition brought to the forefront British artists who have produced provocative work over long and consistently prolific careers. On view were Patrick Caulfield's seminal painting, Wine Bar (1983); two transcendental and viewer-enveloping Diorama paintings by Ian Stephenson, dating from 1967; John Walker's monumental tributes to old master painting, realized through energized, tactile, abstract shapes; and a number of major works by John Hoyland. The latter's use of paint in vibrant, luscious color—splattered, brushed, dripped, and poured onto the canvas—bears out his own definition of the medium: "Paintings are there to be experienced, they are events. They are also to be meditated on and to be enjoyed by the senses, to be felt through the eye. Paintings are not to be reasoned with, they are not to be understood, they are to be recognized."
Guided by their passionate belief in the primacy of the personal, emotional encounter with art, Samuel and Gabrielle Lurie amassed a vital and dynamic collection of contemporary British art that spans four decades. The Luries trace the source of their collecting to an Ian Stephenson retrospective at the Hayward Gallery in 1977; in following years they discovered a penchant for collecting and formed close friendships with Hoyland, Caulfield, and Stephenson.
Venues
Yale Center for British Art:
September 16, 2010–January 2, 2011
Flowers Gallery, New York:
January 28–February 26, 2011
Credits
The Independent Eye: Contemporary British Art from the Collection of Samuel and Gabrielle Lurie was curated by Angus Trumble, Senior Curator of Paintings and Sculpture, and Eleanor Hughes, Associate Curator and Head of Exhibitions and Publications, with assistance from Andrea Wolk Rager, Postdoctoral Research Associate, Yale Center for British Art.
Top image
The Independent Eye: Contemporary British Art from the Collection of Samuel and Gabrielle Lurie installation, Yale Center for British Art, photo by Richard Caspole 
Extended reading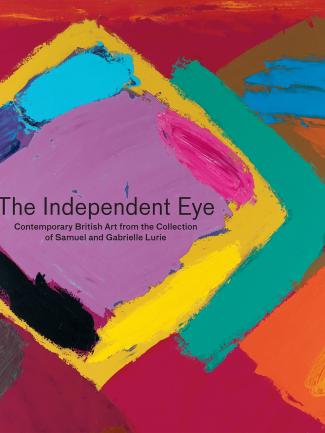 The Independent Eye: Contemporary British Art from the Collection of Samuel and Gabrielle Lurie
Edited by Eleanor Hughes and Angus Trumble