Exhibitions
Art in Focus: The Provocation of Conditions
For the artist and filmmaker Lis Rhodes, "the provocation of conditions arrests continuity," in which resistance is the only mode against inequity and curtailed liberties. The short films on view in the online exhibition Art in Focus: The Provocation of Conditions, including Rhodes's Orifso, showcase four decades of experimental British filmmaking. Each film is a response, and a form of resistance, to different conditions, real and imagined, of their time. Distinct in subject and style, the films evoke our contemporary moment in relation to political unrest, civic protest, and enforced isolation. They explore the relationship between sound and image and push the boundaries between film poetry, documentary, and the claim to narrative truth.
Margaret Tait's Colour Poems (1974) is a nine-part elegy to her native Scottish archipelago of Orkney, beginning with the repercussions of the Spanish Civil War. Rhodes's Orifso (1999) takes the form of a historical fable, using archival and cartographical research to interrogate structures of power and surveillance in France and London between 1942 and 1998. Ori Gersht's The Forest (2005) is a personal meditation on the reverberations and afterimages of the Holocaust. Finally, John Akomfrah and Trevor Mathison's Numen (2014) is a fictional journey of postapocalyptic survival.
All four films can be viewed exclusively on the Center's website from June 21 through August 23, 2021.  
Colour Poems, Margaret Tait (1974)
Orifso, Lis Rhodes (1999)
The Forest, Ori Gersht (2005)
Numen, John Akomfrah and Trevor Mathison (2014)
Credits
Art in Focus is the annual exhibition curated by members of the Center's Student Guide Program. The project introduces Yale undergraduates to museology by providing them with curatorial experience. The student curators for The Provocation of Conditions are Merritt Barnwell (SY 2022) and Adam Chen (TD 2022). In researching and presenting the exhibition, the students were led at the Center by Linda Friedlaender, Head of Education, and Indie A. Choudhury, Postgraduate Associate in the Research department.
The online exhibition and related programs were generously supported by the Marlene Burston Fund and the Dr. Carolyn M. Kaelin Memorial Fund.
Related programs
The Center will host two complementary at home programs. On Friday, June 25, at noon, artists and filmmakers John Akomfrah and Trevor Mathison will be in conversation with Indie A. Choudhury. On Wednesday, June 30, at 12:30 pm, student curators Merritt Barnwell and Adam Chen will join Linda Friedlaender. All programs are free, and preregistration is required.
Film credits
Colour Poems, Margaret Tait (1974; 11 mins., 20 secs.), Courtesy of Margaret Tait and LUX, London
Orifso, Lis Rhodes (1999, 12 mins., 50 secs.), Courtesy of Lis Rhodes and LUX, London 
The Forest, Ori Gersht (2005, 13 mins., 23 secs.), Gift of Alexander F. Cohen, Yale BA 1982, MA 1985, JD 1988, on the occasion of his Yale College 25th Reunion
Numen, John Akomfrah and Trevor Mathison (2014; 11 mins., 30 secs.), Courtesy of the artists and Smoking Dogs Films, London
Top image
Film still from John Akomfrah and Trevor Mathison's Numen (2014), courtesy of the artists and Smoking Dogs Films, London, © John Akomfrah and Trevor Mathison
Extended reading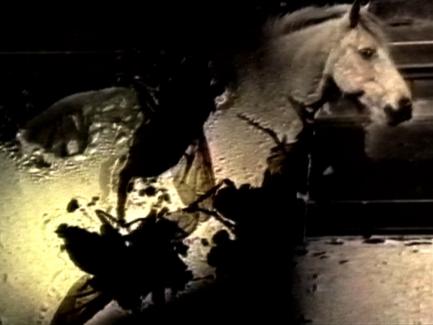 Feature
The Provocation of Conditions: An Interview with Lis Rhodes