Sir Isaac Julien's immersive multichannel film installation Lina Bo Bardi—A Marvellous Entanglement (2019) offers a poetic portrait of the leading architect of Brazilian modernism, Lina Bo Bardi (1914–1992). The nine-screen installation envisioned for the Yale Architecture Gallery ignites a conversation between Bo Bardi's landmark buildings in Brazil and Paul Rudolph's Brutalist design for the Yale School of Architecture (1963). Unfolding in a nonlinear narrative, Julien's film explores Bo Bardi's life, work, and legacy, exemplifying her remark that "time is not linear, it is a marvellous entanglement."
In Julien's intimate portrayal, Bo Bardi's personal history is intertwined with the enduring life of the buildings she designed, which are now embedded in the cultural and social fabric of Brazil. Much like Bo Bardi's expressive architecture, Julien's film provides space for a wide range of creative practice, including performances by the Academy Award–nominated actor Fernanda Montenegro and her daughter, the Cannes-laureate actor Fernanda Torres; original dance choreographed by Zebrinha and performed by the Balé Folclórico da Bahia; and a commissioned performance by the art collective Araká. Bo Bardi's individual story is entangled within a cultural ecosystem that celebrates the vibrancy of the arts in Brazil.
About Sir Isaac Julien
Filmmaker and installation artist Sir Isaac Julien KBE RA (b. 1960) rose to prominence in late 1980s Britain amid a charged political climate of state-sanctioned racial violence and the AIDS crisis. For more than four decades, the artist has explored the potential of film to decenter colonial narratives and mine the complexities of desire, migration, race, and sexuality. Julien's work has been exhibited at museums and galleries throughout Europe and the United States. He has exhibited twice at the Venice Biennale (2015 and 2017), as well as at the 7th Gwangju Bienniale, South Korea (2008); Prospect.1, New Orleans (2008); Performa 07, New York (2007) and documenta11, Kassel (2002). A major survey of Julien's work, What Freedom is to Me was held at Tate Britain in Spring/Summer 2023. Julien has received many honors and awards, including the Royal Academy's Charles Wollaston Award (2017), and Kaiserring Goslar Award in 2022. The same year, he was knighted in the Queen's Birthday Honours. 
About Lina Bo Bardi
Architect Lina Bo Bardi (1914–1992) was born and educated in Rome. In 1946, she moved to Brazil, where she developed a design philosophy rooted in the country's diverse landscapes and culture. Her unique architectural language combines elements of vernacular design with international modernism, often incorporating parts of the existing built environment. Bo Bardi designed some of Brazil's most iconic cultural institutions, including the Museum of Modern Art of Bahia (1960), the São Paolo Museum of Art (MASP)(1968), SESC Pompéia (1977–1986), and Teatro Oficina (1984). These buildings embody her belief that architecture is a representation of civic life. 
Isaac Julien: Lina Bo Bardi—A Marvellous Entanglement is organized by the Yale Center for British Art and the Yale School of Architecture. The exhibition is co-curated by Andrew Benner, Director of Exhibitions and Senior Critic at the Yale School of Architecture, and Rachel Stratton, Postdoctoral Research Associate at the Yale Center for British Art.
The Yale Architecture Gallery is open weekdays (except holidays) from 9 am to 5 pm and on Saturdays and Sundays, from 10 am to 5 pm.
Please enter through the Loria Center at 190 York Street. 
Tours
Exhibition Tours
Saturdays, September 9 – December 9, 2 pm 
Join YCBA museum docents for a tour of the exhibition. 
Walking Tours
Sundays, September 17, October 8, October 15, and November 19, 11 am – 12 pm 
Join YCBA museum docents for a tour of the exhibition Isaac Julien: Lina Bo Bardi—A Marvellous Entanglement, followed by a short walking tour down Chapel Street to see highlights of significant local architecture. 
Top image
Isaac Julien, Um maravihoso emaranhado / A Marvellous Entanglement. 2019. Image courtesy Isaac Julien; Victoria Miro, London; and Jessica Silverman, San Francisco. © Isaac Julien 
Extended reading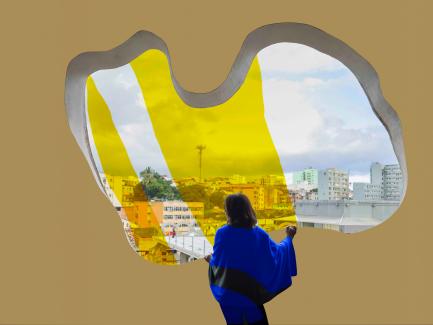 Press Release
Announcing "Isaac Julien: Lina Bo Bardi—A Marvellous Entanglement"