Kangchenjunga Mountain from Darjeeling
Object of the Week
May 12, 2020
When self-isolation leaves you longing for adventure, visit this large-scale landscape (painted while traveling) by an artist whose images and verses have captured imaginations for nearly two centuries. 
In October 1873, Edward Lear (the prolific painter, nonsense poet, and peripatetic) left his home in San Remo, Italy, and embarked on a fifteen-month expedition to India. During the trip, which was made possible by a patron's support and scheduled by the Viceroy of India, Lear visited Kangchenjunga, the world's third-highest mountain. He painted three large landscapes of a single view—one of which, pictured below in full, prominently resides in the Center's fourth-floor galleries. 
Look closely at its composition. Notice that V-shaped setup of foothills, meeting just slightly off center in a spillage of ferns. Both sides are of almost impossible verdure: sun-suffused evergreens stretching up, hanging creepers draping down. They draw the eye deep into the valley as the mountain rises up beyond—broken up only by a dusty orange road, dotted with light-tinged unevenness, tracing the edge of the cliff. The foliage here is painted with a characteristically Pre-Raphaelite fidelity to detail: with every frond or frayed edge carefully captured, and with every color in the chalky cliffs caught and rendered with care.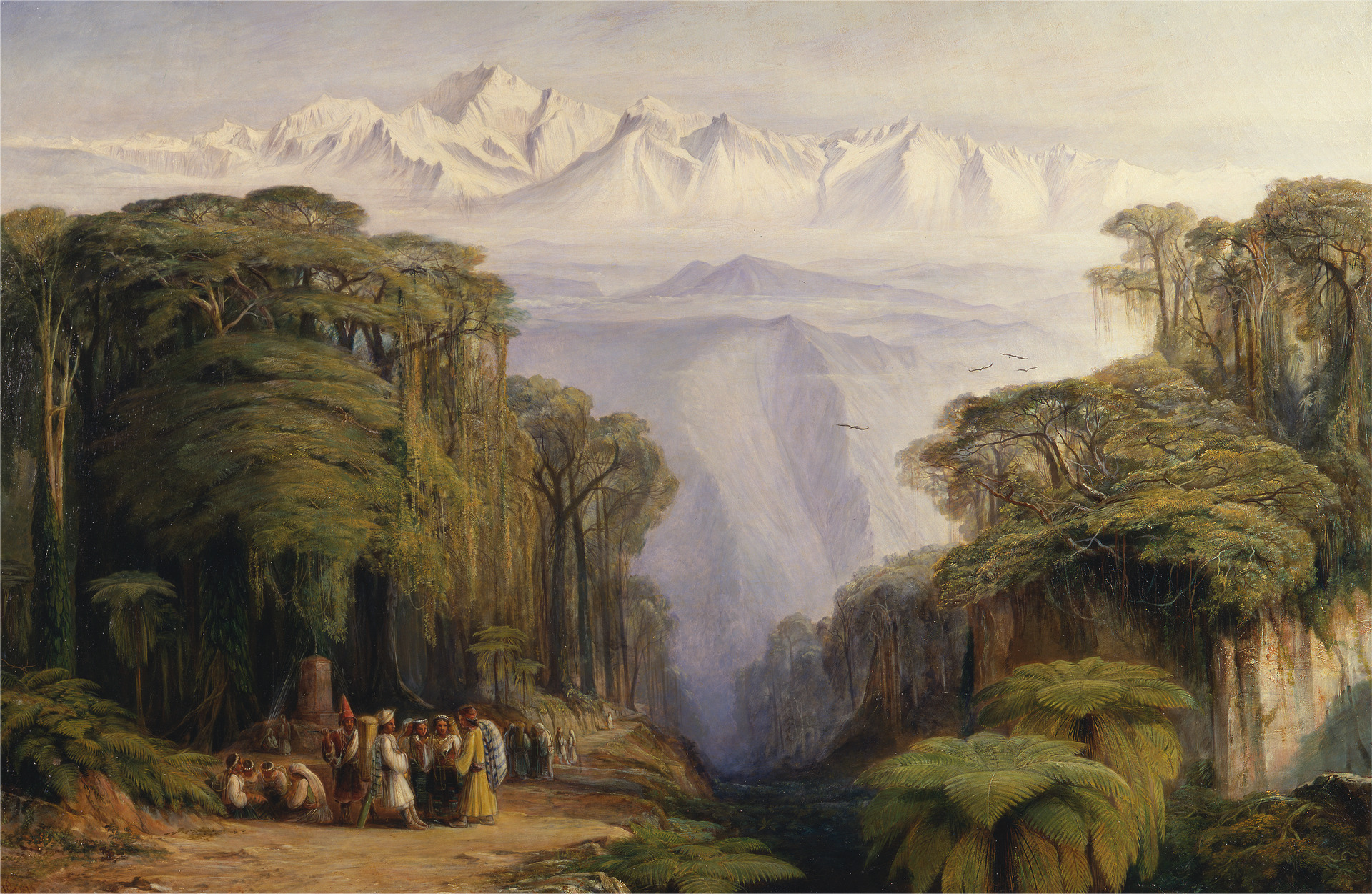 Beyond that rises the mountain—snow-capped, blue-tinged, lightly washed with a white haze of hovering clouds. It is here that the craquelure becomes apparent. And it is here, when ice fades to sky, that the "impossible picturesqueness!!!"—celebrated in his Mumbai memories—is felt most clearly. It is in the ghostliness of that modulation into white, in that shimmering veil of vapor, and in the "contrast between the precipices . . . and these atoms of life playing at their base" that the awe-inspiring sublimity of the scene reaches full expression. 
It comes with a comedic warning from Lear:
"All I beg of you particularly is this,—that if it stands on the ground, you will put up a railing to prevent the children—particularly the twins, from falling over the edge into the Abyss. Any slight wire fence will do."
Remember his birthday, every May 12, by reading some of his poetry and by searching our online collections for more works like this one. We have lots of his letters in our archives, too. 
Written by Hattie Hafenrichter, graduate student, Yale English Department