Sarah Morris's ADNOC Acquired through the John F. O'Brien Fund
Object of the Week
May 28, 2020
Since the mid-1990s, the British-born artist Sarah Morris has been creating abstract paintings, prints, and films to investigate what she describes as urban, social, and bureaucratic typologies. Her pieces, featuring bright color fields and graphic line work, often tell the stories of different global cities—from Los Angeles, to Washington DC, to Rio, to Beijing, to Abu Dhabi. Morris has gained critical acclaim, having received a Joan Mitchell Foundation grant in 2001 and a fellowship at the American Academy in Berlin in 1999.
By inspecting the architectural details of any given city and the psychology of its people, Morris is able to draw upon the dynamic urban landscapes derived from each city's unique vocabulary and palette. As an accomplished filmmaker, Morris views her films as working in tandem with her prints and paintings, describing them as "two sides of the same coin." Her 2016 film, Abu Dhabi, was the first commissioned artwork for the Guggenheim Abu Dhabi's permanent collection. The film reflects upon the city's history, combining archival footage with film Morris shot during the United Arab Emirates (UAE) National Day celebrations, an event that marks the formal independence of the UAE from the UK in 1971.
That same year, the new government of the UAE founded the Abu Dhabi National Oil Company (ADNOC), the headquarters of which Morris depicts in the screen print ADNOC (2018). In 1958, the British had discovered oil near Abu Dhabi, which was at the time part of a British protectorate; the region was then dominated by British-financed petroleum companies. After the unification and independence of the UAE, the newly formed ADNOC absorbed much of the infrastructure built by British companies. Today, ADNOC produces three million barrels of oil per day and is the largest company in the UAE.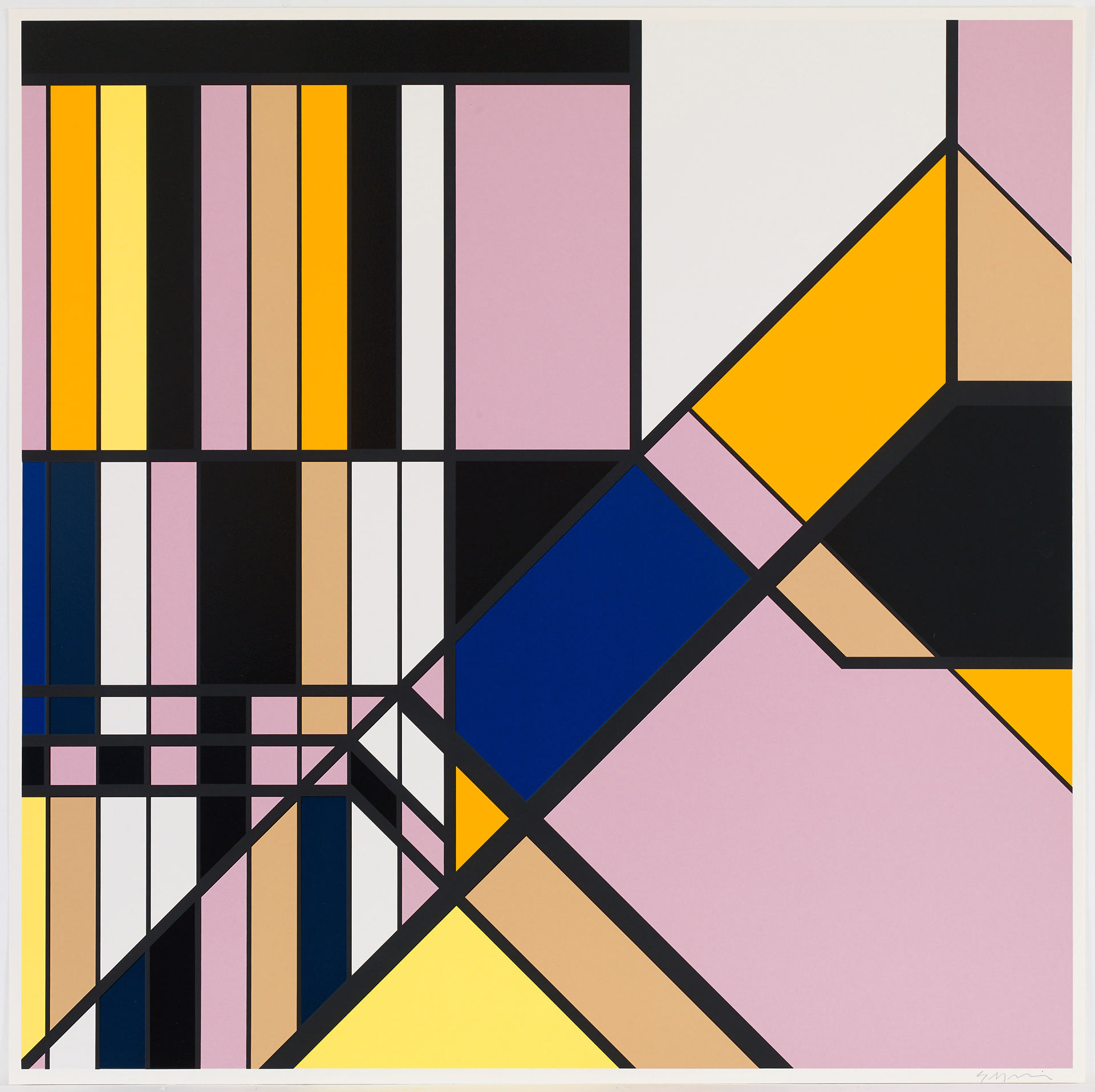 In ADNOC, Morris's use of geometric forms and color works to map the historical and social landscape of Abu Dhabi through multiple perspectives, narrowing in on the urban realities emerging from the backdrop of rapid economic development and British influence. In presenting the tensions of abstracted and aestheticized space, Morris seems to simultaneously disorient and mesmerize, the same effect that cities themselves often create. Within a framework of global power and capital, Morris's ADNOC presents a glossary to tackle the architectural, economic, and bureaucratic power dynamics of a modern city.
Morris's work was recently acquired through a fund established by John F. O'Brien, a longtime Friend of British Art. Using this gift, the Center created a program in support of arts education that aims to increase Yale undergraduates' appreciation of, and commitment to, the arts by involving them in the acquisition process.
Written by Yale undergraduates Adam Chen, TD '22, and Muriel Wang, TC '20