Exhibitions
The Hilton Als Series: Njideka Akunyili Crosby
This focused exhibition of works by Njideka Akunyili Crosby (b. 1983), Yale MFA 2011, is the third and final show in a series curated by the Pulitzer Prize–winning author Hilton Als in collaboration with the YCBA and each artist. Previous exhibitions featured works by Lynette Yiadom-Boakye (2019) and Celia Paul (2018).
Als and Akunyili Crosby selected works from The Beautyful Ones, the artist's ongoing series of intimate portraits of Nigerian children, including members of her own family. The title references a classic 1968 novel, The Beautyful Ones Are Not Yet Born, by Ghanaian author Ayi Kwei Armah. Published in a year of worldwide civic and social unrest, Armah's book comments on the challenges of revolution, addresses the unfulfilled political promises of the postcolonial African nation-state, and looks ahead from a place of lost hope.
Akunyili Crosby is a leading contemporary artist whose work offers critical perspectives on postcolonial history and experience as well as transnational identities. Born and raised in Nigeria, she came to the United States in 1999 to attend the Pennsylvania Academy of the Fine Arts and Swarthmore College, before obtaining an MFA from Yale University. Now based in Los Angeles, Akunyili Crosby has been the subject of a sequence of high-profile and well-received solo exhibitions in both the United States and the United Kingdom, notably at the Baltimore Museum of Art, Modern Art Museum of Fort Worth, and the National Portrait Gallery, London. In 2017 she was awarded a MacArthur Fellowship "genius grant."
The Hilton Als Series: Njideka Akunyili Crosby is organized by the Yale Center for British Art and curated by Hilton Als, staff writer for the New Yorker and Associate Professor of Writing at Columbia University. The exhibition will travel to the Huntington Library, Art Museum, and Botanical Gardens in San Marino, California, where it will be on view February 15 through June 12, 2023.
Exhibition brochure
Download an illustrated booklet, including descriptive text, an artist biography, and a list of works on display that accompanied this exhibition.
Related Programs
Art in Context | Transfers and Connections: Njideka Akunyili Crosby's Works on Paper
Tuesday, September 27, 2022, 12:30 pm
David K. Thompson, Coordinator of Cataloguing for the Department of Prints and Drawings at the YCBA

at home: Art in Context | Njideka Akunyili Crosby: Constituting Painting
Tuesday, November 1, 2022, 12:30 pm
Kristen Hileman, Curator and Critic, Yale School of Art

Art in Context | Diasporic Collage: Njideka Akunyili Crosby's "The Beautiful Ones"
Tuesday, December 6, 2022, 12:30 pm
Carol Armstrong, Professor in the Department of The History of Art, Yale University

at home: In Conversation | Ainehi Edoro and Emmanuel Iduma on Njideka Akunyili Crosby
Friday, December 9, 2022, 2 pm

Andrew Carnduff Ritchie Lecture | A Conversation with Hilton Als
Thursday, January 5, 2022, 4 pm
Hilton Als, associate professor of writing at Columbia University School of the Arts, New York and staff writer for the New Yorker, in conversation with Martina Droth, Deputy Director and Chief Curator at the Yale Center for British Art. 

Art in Context | Njideka Akunyili Crosby: Archiving Memory
Tuesday, January 17, 2023, 12:30 pm
Cheryl Finley (Yale PhD 2002), Distinguished Visiting Professor in the Department of Art and Visual Culture at Spelman College, and author of Committed to Memory: the Art of the Slave Ship Icon

Ayi Kwei Armah's "The Beautyful Ones Are Not Yet Born" (1968), an Inspiration
Friday, January 20, 2023, 12 pm
Stephanie Newell, George M. Bodman Professor of English, Yale University
Exhibition Tours
Saturdays and Sundays at 2 pm
Join our museum docents for a tour of the exhibition. 
Watch Now
at home: Artists in Conversation
Njideka Akunyili Crosby talked with Courtney J. Martin, Paul Mellon Director, YCBA, in June 2021. Watch the recording here.
Hear More
Njideka Akunyili Crosby talked with writer and filmmaker Tsitsi Dangarembga in November 2020 on Dialogues: The David Zwirner Podcast. Listen to their conversation here. 
Top image
Njideka Akunyili Crosby, "The Beautyful Ones" Series #1C (detail), 2014, acrylic, colored pencil, and transfers on paper, All images © Njideka Akunyili Crosby, courtesy the artist, Victoria Miro, and David Zwirner
Extended reading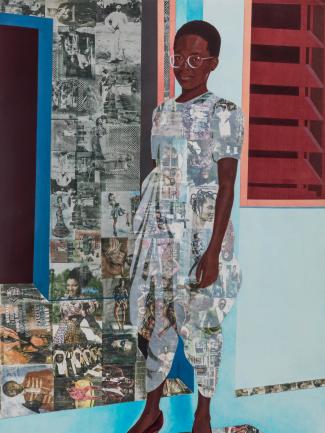 Press Release
Announcing The Hilton Als Series: Njideka Akunyili Crosby